Rear Dumper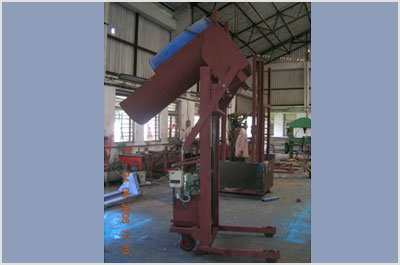 In this type of dumper the material from the drum is dumped at the rear side.
Available in stationary as well as mobile modes.
The dumping mechanism in this dumper is purely mechanical. The drum carriage is designed in such a manner that as the drum reaches a desired dumping level the drum starts tilting backward to dump the material in the hopper/vessel.
Tilting angle 40 degrees between drum axis and horizontal.
Capacity ranging from minimum to 500 kgs. With lift upto 4 metres.
Stainless steel pouring lip of full stainless steel GMP models available.
Rigid in construction.
Low operating and maintenance cost.
Related Product :