Goods Lift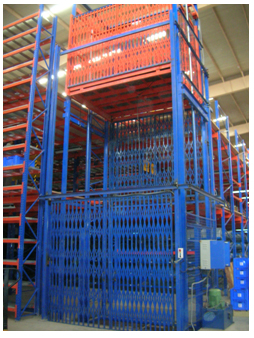 Goods lifts are stationary lifts to carry goods from one level to another level.
Construction of this lift is very rigid hence it is very reliable for carrying palletized loads directly with pallet trucks or stackers.
Capacity ranges from 1000 kgs. To 5000 kgs.
The platform of this lift guided in two vertical guide mast to provide better stability.
The platform can be accessed from two opposite sides.
The operation is also very simple. Each floor has push button stations and limit switches, which controls the interfloor movement of the lift.
Generally used in warehouses and godowns.